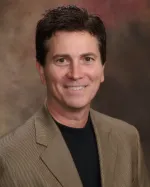 Dr. Dana Pilkerton is a 1984 graduate of Palmer College of Chiropracti-West. He has been a treating doctor at Community Chiropractic Center since 1985. With over 25 years of clinical experience, doctor Pilkerton has had the privilege of helping thousands of patients to achieve better health with natural, gentle, effective, Chiropractic care.
Dr. Pilkerton was born and raised in southern California and performed his undergraduate studies at Cal Poly Pomona as well as Cypress College. Dr. Pilkerton discovered the benefits of chiropractic care at an early age when his father sought chiropractic care for a herniated disc. Chiropractic treatment was successful in relieving the pressure and inflammation on the sciatic nerve thus sparing him complicated spinal fusion surgery. Following this experience Dr. Pilkerton had relief himself for migraine headaches which were triggered by spinal nerve pressure in his neck. After experiencing the dramatic relief of pain and disability which chiropractic care provided for himself and family members, Dr. Pilkerton decided that a career helping others with safe, effective, natural treatment would be his career path.
Dr. Pilkerton has always kept up to date on the latest research and treatment for musculoskeletal conditions. He has completed advance training for treating motor vehicle whiplash disorders, and spent five years as a Qualified Medical Examiner for the State of California. The office has helped thousands of patients to improve their health, and avoid costly and potentially dangerous drugs and surgeries.
Although most people associate chiropractors with relieving back pain, Dr. Pilkerton educates patients to understand that Community Chiropractic Center focuses on the whole person. Chiropractors are trained to help most all musculoskeletal conditions. Conditions such as headaches, whiplash, osteoarthritis, frozen shoulder, tendonitis, tennis elbow, carpal tunnel, hip pain, sciatica, and lumbar disc protrusions(degenerated discs) are all treated successfully at the Placentia chiropractic office.
The modern, well equipped office allows us to provide the full scope of therapies available. From motorized "patient assist" tables to laser therapy and lumbar disc distraction tables, the office is well equipped with state of the art therapy. A typical treatment session at the Community Chiropractic Center can include: a thorough health consultation with the doctor, an examination including orthopedic, neurologic, and spinal assessment, x-ray(if necessary) to evaluate the painful area, treatment including spinal and joint manipulation, soft tissue techniques of massage and trigger point therapy, traction, microcurrent interferential therapy to reduce muscle spasm, pain and inflammation, laser treatment to promote healing, ultrasound for muscle tension and fibrosis, and the use of ice or heat to relieve pain. Any effective treatment or combination thereof that will assist the patient in achieving full vital health will be discussed and employed.
General Health recommendations for nutrition, exercise and proper body mechanics will be discussed.
Having all the tools and therapies available for successful treatment makes the choice of receiving care at Community Chiropractic Center an easy one.
The charges for our services are EXTREMELY affordable. Our patients are surprised to find the cost of health services at Community Chiropractic Center is much lower than traditional medical treatment. Community Chiropractic Center is a member of most all insurance plans. Dr. Pilkerton and the staff will be glad to discuss our fees openly with you and make all arrangements to keep your treatment affordable. Dr. Pilkerton believes that "optimal health doesn't cost…it pays!" Come in and see for yourself how modern, gentle "Wellness" care can get you well and keep you there!