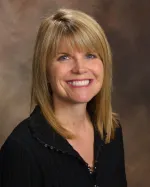 Dr. Ellison is a native Californian. She was born and raised in the San Francisco Bay Area. She attended Palmer College of Chiropractic West in San Jose and graduated in 1984. She completed her undergraduate studies in biology and chemistry at Cal Poly San Luis Obispo. Her interest in nutrition and the healing arts began early on in high school. Chiropractic became her chosen career path by the age of 14. She has practiced in Orange County since 1986 and has practiced at Community Chiropractic Center since 1987. Dr. Ellison has dedicated her time to teaching others about natural healing and the benefits of healthy living. She enjoys assisting her patients to take an active role in getting healthy and staying well.

Dr. Ellison makes keeping up with the latest technologies a top priority. She specializes in gentle effective treatments for patients of all ages. She provides relief for patients suffering from a wide variety of conditions including neck and back pain as well as headaches and sports injuries. She works with complicated cases involving spinal degeneration, arthritis and bulging herniated discs. She has helped thousands of patients get relief from pain and immobility without drugs and surgery. Our Placentia office offers the most modern physical therapy modalities and treatment methods including the all new Laser Light Therapy, ultrasound and interferential muscle stimulation. The office is equipped with patient assist adjusting tables as well as lumbar disc distraction tables. We also specialize in nutritional therapy and carry the highest quality professional products to assist your healing and keep you healthy.

On your first visit expect a thorough case history and exam to be performed. We also have x-ray equipment available in our office if necessary. Treatment at our office involves gentle manipulation of the spine as well as soft tissue massage and the use of appropriate physical therapy modalities. Community Chiropractic Center is synonymous with caring. Our kind and loving staff, as well as the kind, experienced doctors, will work hard to ensure you have a positive experience on every step of your road back to health. We have private treatment rooms for your privacy and we will work hard to accommodate your individual needs and tailor your treatment according to your specific condition. We will provide stretching and strengthening exercises, nutrition and body mechanics instruction so you will gain the most benefit from your treatment.

Our care is reasonable and affordable; your health is our primary concern. Dr. Ellison is on nearly every health insurance plan and even if you don't have health insurance coverage we will work with you.
Dr. Ellison's mission is to provide comfortable, effective treatment by applying the Chiropractic Principle of caring for your spine. The spine is the lifeline to your body and it houses your nervous system, which controls and coordinates all functions in your body. Your entire spine and your specific spinal movement mechanics will be evaluated and treatment options will be discussed.

Dr. Ellison believes you should feel comfortable with the choice you make for your health care provider. She would enjoy meeting with you and discussing options for your treatment. Whether you are looking for pain relief or to improve your overall health we hope you give us the opportunity to prove to you how wonderful chiropractic care is. Don't wait another day to be the best you can be and live to your best potential!